San Marino News24, the mobile application for smartphones and tablets iOS and Android that allows you to stay constantly updated on the latest news of the Republic of San Marino, gets a major update: the implementation of new content, new graphics and a new platform: Apple TV.
Following the invitation from Apple to attend the event "Apple TV Tech Talk" last January of our young developer Nicola Giancecchi, at Mr. APPs we decided to integrate the Apple TV platform for San Marino News24. The news of the major newspapers will be viewed and sorted from the most recent news feed directly to your TV. In addition, we added San Marino TG24, the news of San Marino News24, customizable and available 24/7; you can choose the length of the newscast, from 90 seconds to 30 minutes, and the news can be read by the synthesized voice of Apple TV.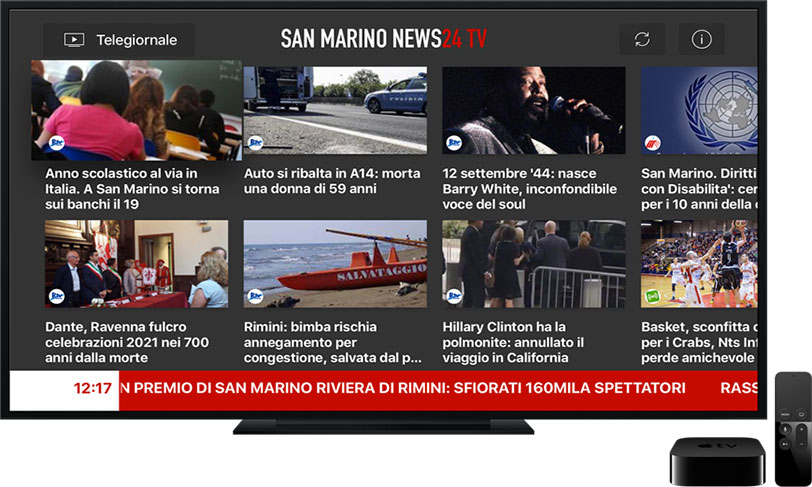 The application has already filled with very important newspapers - Libertas, San Marino Notizie and San Marino Press. Today, we are pleased to announce that the family of San Marino News24 is growing even more with other newspapers: San Marino RTV, Alta Rimini and San Marino News join the application. We want to thank all the citizen from San Marino (and not): by downloading San Marino News24, you help spread the information in the Republic of San Marino and the surrounding area through the consultation in total mobility and simplicity of the news.
You can already download the new update for iPhone and iPad and Android smartphones and tablets for free here:
iPhone & iPad
Smartphone & Tablet Android
For more information on San Marino News24, click here.