Just after two days from the official launch, the free application for iOS and Android San Marino News24 made by our company as a gift to all citizen of San Marino, has already achieved its first major success, reaching the Top100 in its category in the Italian Apple's AppStore.
San Marino News24 is an easy and fast app that allows you to stay udated on the latest news of the Republic of San Marino, which are published directly by online newspapers, such as GiornaleSM, Libertas, San Marino and San Marino News Press. Thanks to the incredible interest received from day one, the app managed to overcome the application of the famous CNN in terms of downloads and access, as well as ranking just one step below the official applications of Resto del Carlino and Il Secolo XIX.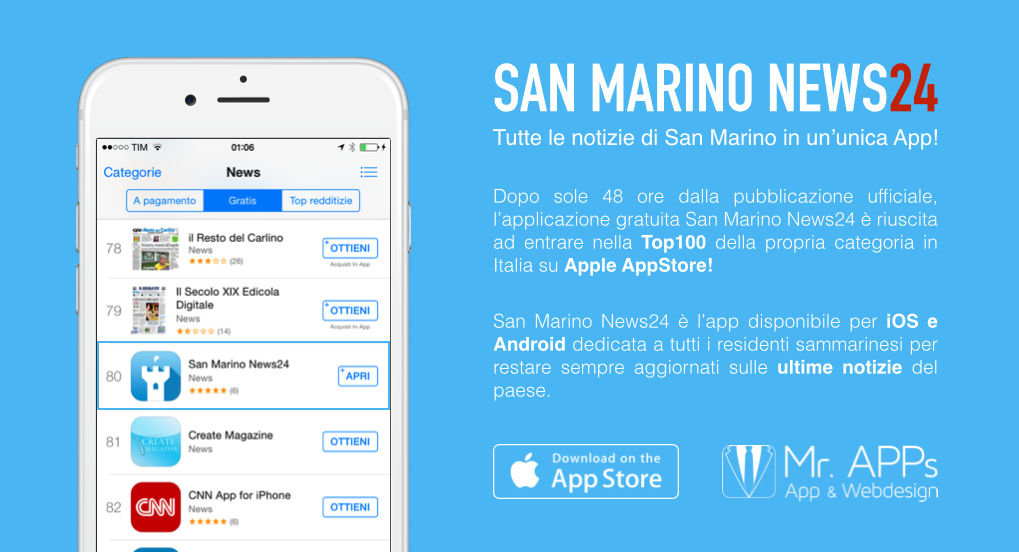 An achievement that gives us great satisfaction and rewards the efforts invested in promoting technological innovation in our country. We want to thank all citizens of San Marino and surroundings that are downloading San Marino News24 and that are helping us spread the information in our little Republic.
You can download San Marino News24 on your iPhone/iPad or Android smartphone and tablets, for free here:
iPhone & iPad: http://goo.gl/0BkwW0
Smartphone & Tablet Android: http://goo.gl/1Z2d4L