Recently developed by our company, iNews is one of the mobile applications for smartphones and tablets iOS, Android and Windows Phone of the agency Mobinext srls. On Sunday, January 11th, the app reached number one in its category on the Apple's AppStore.
iNews is an easy and intuitive app, that allows users to stay constantly and daily updated on the main national and international events. Breaking news, technology, entertainment, gossip, health, science and apps: these are the category at user's disposal. Thanks to practical push notifications, users will be able to find out the most important news of the day.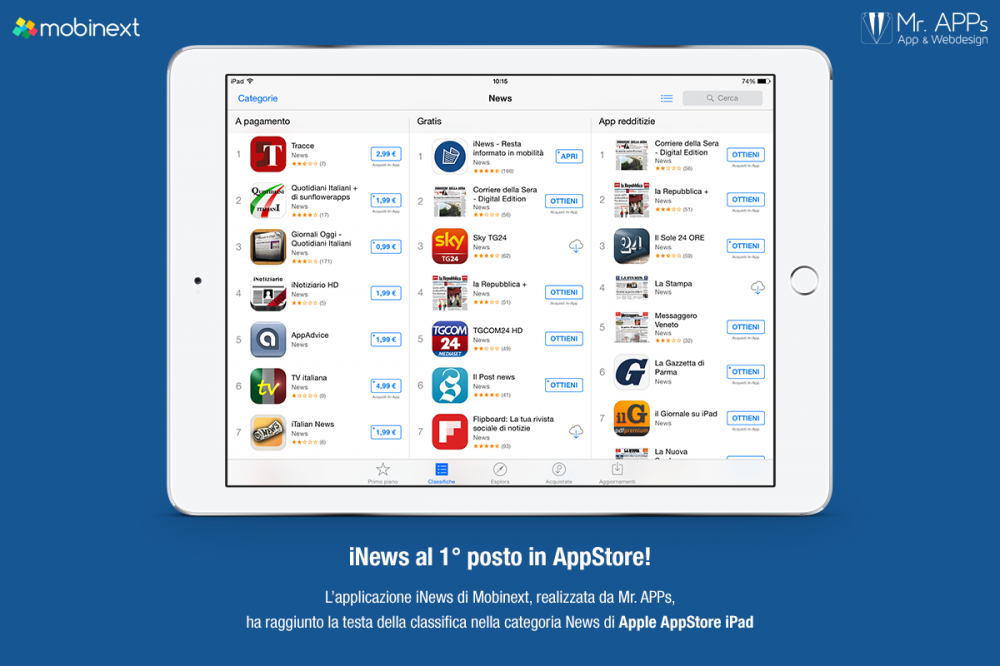 Thanks to thousands of downloads, iNews managed to reached the top in its category, outperforming many well-known newspapers apps, such as Il Corriere della Sera, Sky TG24, TGCOM24, la Repubblica and so on.
An important outcome, the result of the partnership with the renowned mobile advertising agency Mobinext srls, owner of the iNews project and of other popular apps for smartphone and tablet.
iNews is available for free for smartphones and tablets iOS, Android, Windows Phone and you can download it directly from here.