A few days ago, WhatsApp introduced the end-to-end encryption for its chats. This means that every message sent or received will be encrypted and can be read only by the sender and the recipient. This feature is already on by default for all users with the latest version of the app.
WhatsApp users should have already noticed the alert: "Messages you send to this chat and calls are now secured with end-to-end encryption" in some chats; it indicates that the messages of that particular conversation are now encrypted.
Although the messaging giant has already encrypted its servers (once messages have been delivered, they won't be saved), now every call, message, photo, video, file and voice message will be unavailable to WhatsApp or to third parties to guarantee a higher protection.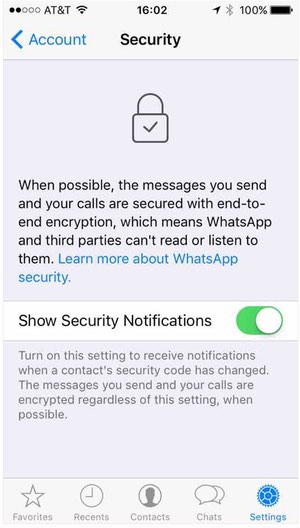 But what does end-to-end encryption mean? It's a method to send a message that can be read solely by the recipient and cannot be intercepted by accessing servers or from networks where the message could have been sent. The message won't be transmitted as a simple text, but rather it will be encrypted using a long series of numbers that needs a key owned by the sender and the recipient alone. Keys are temporary, which means that they disappear as soon as the message has been deciphered to make sure that it cannot be open later. This process occurs automatically: creating a special secret chat to protect messages or activate something is not required.
WhatsApp users can verify whether their communications have been intercepted by scanning a QR code in the recipient's phone through the indicator in contact or group information.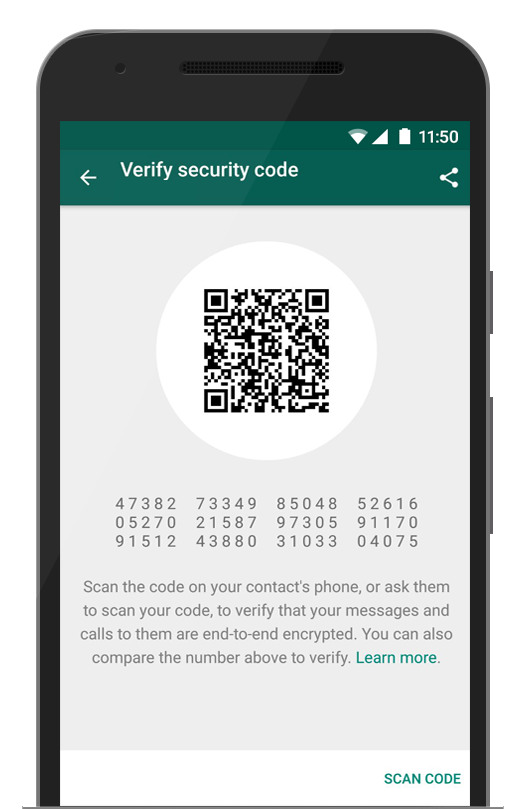 In other words, end-to-end encryption helps making WhatsApp communication private, as it would happen face-to-face.
Following the dispute between the FBI and Apple and the attempts to monitor digital communication, debates over privacy and security are increasing. As a result, this update might prove to be problematic, especially after the company's announcement to have reached 1 billion active users from all around the world.
Jan Koum, CEO and co-founder of Whatsapp writes: "People deserve security. It makes it possible for us to connect with our loved ones. It gives us the confidence to speak our minds. It allows us to communicate sensitive information with colleagues, friends, and others. We're glad to do our part in keeping people's information out of the hands of hackers and cyber-criminals." No one - as the company's blog highlights - can see inside that message. "Not oppressive regimes. Not even us."