Recently, pictures and videos of the new Apple headquarters have been circulating and they show us the progress of the building. The largest piece of curved glass has finally been installed to form Campus 2 or the "spaceship", as the world has been calling it.
Designed by the architect Sir Norman Foster, the new campus was announced by Steve Job at the conference hall of the WWDC on June 7, 2011, four months before his passing.
Construction works began in Spring 2014 and it is estimated that they will be done by 2016. Employees will take their places in the ring building, while construction works will go on in the other buildings, which will be done by the beginning of 2017 for a total amount of 5 billion dollars.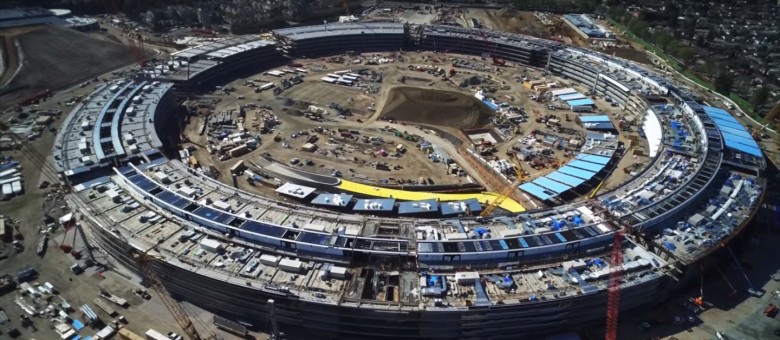 The area that will house the entire building will occupy about 2,8 million square feet, while the circumference of the main building measures more than one mile.
Inside there will be a restaurant area that will occupy almost 60,000 square feet for about 2,800 seats, a 100,000-square foot fitness center and a 120,000-square foot auditorium with a capacity of 1,000 seats; it will probably replace the San Francisco building as far as future Apple announcements are concerned. Moreover, Apple is building an underground parking and a building designated exclusively for Research and Development. Once completed, the building is planned to house up to 13,000 employees.
There's a lot of curiosity around this majestic project. As the blueprints suggest, the building will become one of the most energy efficient projects in the world.

The site will be powered by 100% renewable energy thanks to 700,000-square-foot solar panels installed on the roof, making it fully self-sufficient.
The parking lot will be build underground to avoid ruining the landscape as well as redeveloping the area to be 80% greenery. As a matter of fact, 7,000 trees and plants will surround the campus and their fruits will be served in the campus cafeteria.
Moreover, more that 1,000 bikes will be delivered directly on campus to help employees move from one building to the other and bike paths have already been implemented in the project.
According to Tim Cook, the building "will be a center for innovation for generations to come".